Research Library of the Polish Composers' Union
A new book about Polish music written by Cindy Bylander published by the Academic Studies Press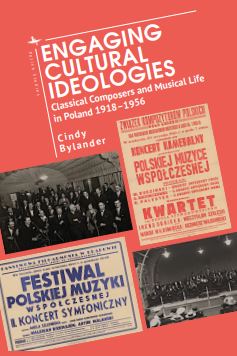 Cindy Bylander: Engaging Cultural Ideologies: Classical Composers and Musical Life in Poland 1918-1956
2023-01-11
We are very glad to present a new book about Polish music written by Cindy Bylander (the American musicologist of outstanding merit for Polish music, laureate of Honorary Award of the Polish Composers' Union in 2017), published by the Academic Studies Press. Thank you, Cindy, very much, for having informed us and your kind offer to send a free copy for our Library collection!
Engaging Cultural Ideologies
offers a recontextualization of the effects of Poland's cultural practices, especially those concerning issues such as nationalism, elitism, and race, on the genesis and performance of contemporary Polish compositions from 1918 to 1956. Based on extensive archival research that includes the first comprehensive examination of concert programs in Poland as well as a series of case studies focused on composers' challenges in the midst of nearly constant turmoil, Bylander brings fresh insights into the public and private power struggles concerning artistic freedom that were animated by similar points of contention across seemingly diverse historical eras.
Cindy Bylander,
Engaging Cultural Ideologies: Classical Composers and Musical Life in Poland 1918–1956
Boston, Massachusetts, USA: Academic Studies Press, 2022, 343 pp.
More information on the publisher's website:
Academic Studies Press
X