Research Library of the Polish Composers' Union
Poszukiwanie. Jerzy Artysz w rozmowie z Sylwią Wachowską i Aleksandrem Laskowskim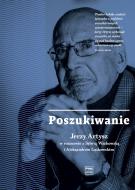 Poszukiwanie. Jerzy Artysz w rozmowie z Sylwią Wachowską i Aleksandrem Laskowskim
Polskie Wydawnictwo Muzyczne, Kraków 2022

2022-10-29
Poszukiwanie. Jerzy Artysz w rozmowie z Sylwią Wachowską i Aleksandrem Laskowskim
[Searching. Jerzy Artysz in conversation with Sylwia Wachowska and Aleksander Laskowski]

In the book, Professor Artysz recalls the reality of the conflagration of the war, the mother who always saw musician in him, times - not always gray - of the Polish People's Republic: music education, singing competitions and first roles in the Łodz Opera. It describes a mature artist – his parts in performances of the Grand Theater and the Warsaw Chamber Opera, and performance of songs. Since the experiences gained in Italy and Spain were of great importance for the artistic development and pedagogical work of Jerzy Artysz, stories from the South could not be missing. The book also includes talks about teaching the next generations of singers. The interview shows an image of an artist and educator who does not rest on his laurels, but constantly looks for new paths and devotes himself to every challenge brought by fate with true passion. The book was published in 2022 by the PWM Edition, Cracow, Poland. The presentation of the book and a meeting with the artist Jerzy Artysz was organised by the Research Library of the Polish Composers' Union in partnership with the PWM Edition on the 20th of September, as a fringe event of the 65th 'Warsaw Autumn' Festival. We kindly thank the publisher for having delivered copies of the book for our library collection.